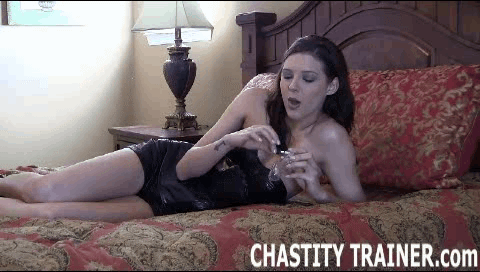 share gif:
Sadie Holmes knows how much of a bad boy you are. She simply cannot trust you not to get in trouble with your sad, pathetic cock.
I got this chastity device for you because I cannot trust that you're not going to do something stupid with that tiny dick of yours. You're going to have to wear this all the time, you realize that, right? You'll have to get into the shower with it, go to work with it, even sleep in it.
There's only one person on the planet that is able to take this off, and it's me. I have the key that will free you from the bonds of your chastity. So get your dick out and say goodnight: this little guy is not going to be seen by anyone apart from me every again. However, I really must warn you, it's likely not going to happen all that much!
- Sadie Holmes